LEDDEX, Ltd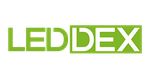 LEDDEX, Ltd
Elektrines str. 8,
03150 Vilnius, Lietuva
Litauen

Tel.: +370 5 212 7244

E-Mail: info@leddex.eu
Internet: www.leddex.eu/
ABOUT LEDDEX
LEDDEX Strongly believes in mutually beneficial business development. As a company we are extremely customer driven which, in part, enables us to develop innovative and reliable products along with a superior service for our customers.
In this fast-paced world, we are constantly looking for and developing new creative LED lighting solutions. From the very beginning our decision to work exclusively with reliable and well-known brands such as Samsung, Cree, 3M and others has proved to be a winning formula.
APPROACH
LEDDEX's innovative approach ensures that
the very latest and most reliable, proven technologies are applied to the right applicants, whether they are for residential or commercial use.
We are at the very forefront of the ever developing technological wave of LED products and in this rapidly changing market we constantly invest to ensure that we present the very best products to our clients.